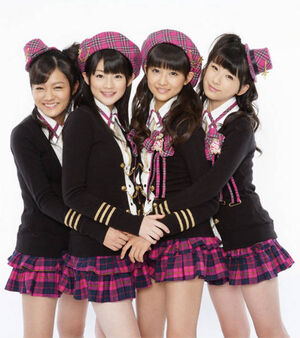 As Part of S/mileage's debut promotions, they are doing something called "Augmented Reality" .AR allows you to create mini S/mileage in your own home if you have a web cam.
The girls are showing it off here
Update
Promo Ad [There are like 20 of these ads]
To get mini S/mileage follow the girls by doing this
S/mileage Web Site
1) Go to their website (link above).
2) Click on the button that has the letters "AR" on the right upper part of the page.
3) The page will pop up a Flash applet.
4) Turn your webcam on.
5) Click "Allow".
6) Click? "Print" and print out the white "S"s on solid black squares.
7) Click "ON AR" and aim your webcam at the printed sheet, avoiding glare and shadows on the page.
8) Adjust the angle of the camera or sheet until S/milage appears and the music plays.
If you try this ,post your results here and any helpful hints so everyone can have mini S/mileage