Tomato n'Pine, also known as Tomapai for short, is an indies idol unit initially formed in 2009 consisting of "Season 1" members Kanaki Jyun and Koike Yui as a duo. They were 2008 Miss Magazine finalist (organised by Weekly Shonen Magazine) and coincidentally since they share the same birthday 4th April 1991 and so formed an idol unit releasing their first CD debut album "Life is Beautiful" on 4th April 2009.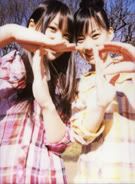 Interestingly the idea of Tomapai is that in addition to their singing act the members may also work on their other personal work such as gravure modelling and acting - a trend more commonly used by Asian artistes such as South Korea, Taiwan and Hongkong.
However in that same year, Kanaki decided to focus on her studies and announced her exit from the group (subsequently from showbiz altogether) and 2 more girls joined Tomapai as "Season 2" members thereby forming a trio. Koike then used the moniker YUI while the other 2 girls are HINA (Kusano Hinako) and WADA (Wada Erika). With this new lineup Tomapai released "Captain wa kimi da!" in May 2010. The trio continued the tradition of juggling their singing act along with their modelling and acting jobs.
Now, Tomapai is a grassroots indies idol unit, so their activity and promotional strategies differs a lot from mainstream acts.
Firstly, they performed mostly only live events like the Tokyo Idol Festival 2010 where they performed their own original works and also perform covers of songs by mainstream idols. So if fans wants to keep track of their future activities and whereabouts, they have to visit the official website or the newspapers/magazines. This is important because their CDs were only sold at the live shows where they performed. (Now you can order online e.g. Tower Records)
Regarding recording labels, like most indies acts Tomapai formed their own label T&P (Tomato N'Pine Tokyo) to represent and produce themselves. With the exception of only their first single "Captain wa kimi da!" which was produced by
agehasprings
who has produced the likes of Yuzu, CHARA and Ito Yuna.
Tomapai made heavy use of the internet to promote themselves, such as Youtube, MySpace, Twitter and Ustream. Other than that, Tomapai worked on some radio shows and have their own internet streaming broadcast. On television, they are regulars on
NTV's "Idolchin"
/, along with other idol groups such as
Momoiro Clover
and members from "
Idoling!!!
".
Currently Tomapai is bracing for their major debut produced by Sony Music Entertainment / Sony Records with their latest single "Tabitachi Transfer" set to release in 9th March 2011, which I have really high expectations for.
Personally, I think Tomapai could become really successful. Each of the members are already known in their respective modelling and acting works, so it should help in achieving higher recognition. Perhaps soon they can be as popular, if not more, than Momoiro Clover, another idol group with indies background. So if you are into high school girls doing dance-alongs and singing, Tomato N'Pine might just be the one for you.
Links
Tomato n'Pine Official Website
<-ADDED
MySpace
Ustream Channel
Youtube
(Season 1 members)
Tomato n'Pine - Life is Beautiful PV
Tomato n'Pine ~ Life is Beautiful (how to dance)
(Season 2 members)
Tomato n'Pine ~ Captain wa kimi da! at Tokyo Idol Festival 2010 (studio album audio)
Tomato n'Pine ~ Tameike, Okarina, Hora Neko ga Warau PV
(Thanks for reading. Was in hospital doing rehab on back. Apologies for the absence)