I am a musician, and I love idols. So nothing fancies me more than having idols dancing and prancing with musical instruments in a band. And there is not enough of these combinations in the music world now.
The term "bandol" is an amalgamation of the word "band" and "idol", means it's a pop act that have characteristics of a band and an idol. ZONE was a pop/rock band consisting of 4 girls that uses the genre bandol to promote themselves - the first at that time. Their early days saw them incorporating dance choreography with their performances. However, as time goes by, ZONE's musical prowess began to improve and they moved into serious pop/rock more, and the genre bandol become synonymous only to ZONE.
There were other girl-bands that came along after ZONE, like Gaki's favourite
SCANDAL
for instance. But SCANDAL is a serious pop/rock act, and the girls are seriously talented in their playing.
So last year, I discovered an interesting project that combines Akiba-style idols with pop/rock band.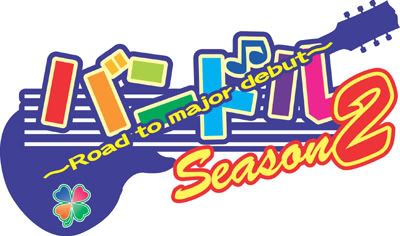 An internet broadcasting portal called
Akiba BB Channel
which was created in 2005, promotes and produces shows all things Akiba in its programme, namely anime, game, seiyuu, idols etc. Their shows are free for viewing online and are released periodically like podcasts.
One of their projects is like a reality show, called "Bandol - Road to major debut". The show was organized in commemoration of its 5th year anniversary and called an audition for all interested indies idols (gravure, idol group, cafe maid etc) to participate in a popularity voting contest to form a bandol unit. The idea is to take a group of snormal Akiba idols, that has absolutely zero experience in band musical instruments, to train in their chosen instrument, and finally go through continous rounds of voting and eliminations and performances.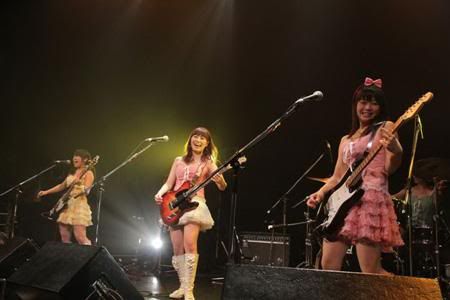 If you are familiar on how idol audition works, such as Morning Musume or AKB48, the show is not much different from it. Instead of dance lessons and choreography drills, they have drums and guitar practices. Instead of dancing performance, they have band showdowns.
The show has all the elements of Japanese documentary-reality-variety show in it, all the drama, tears and struggles are in it. In the end 4 girls were chosen and formed a band called BeeMINE. In October 2010, an edited and formated version of the show was aired in
Sky Perfect TV
.
The winning members are:
Guitar: Sugawara Shiori, Mizuki Momoko
Bass: Tokuoka Akane
Drum: Yamaguchi Satomi
On the band's formation the band members were very happy to perform on stage and hopes to be on a major debut soon. Also said that they wish to become like SCANDAL, and work hard so as not to lose to major idol acts.
I will keeping watch of BeeMINE every step of the way. If they ever go major, I'll be there to support them.
So is BeeMINE good as a bandol?
Well, they only have but one year to pick up a new musical instrument. Of course they're not really fantastic. Then again not even AKB48 nor Morning Musume can boast of having a full roster of vocal sirens.
But that is exactly the charm of an idol. It is the journey of becoming an idol, the hard work and tears that appeal to their fans. We always say that idols should be perfect, but conversely it is their flaws and shortcomings that makes us adore them even more.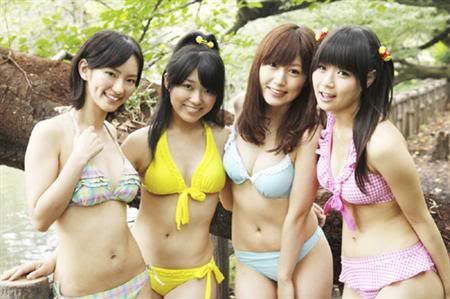 Additional information:
A 2nd season of the show "Bandol - road to major debut" is currently under way. It chronicles the musical journey of BeeMINE as they continue to perform live shows and hone their skills at the same time for a major debut one day. Currently they had the privilege to see
Sexy Panther
(セクシーパンサー) practice and get some tips from the rock veterans.
Also, at the end of the 1st season's voting-elimination process, a separate contest was held for "Year 2" band members. Therefore, Season 2 also documents the journey of the selected members until their first live debut.
During BeeMINE's Christmas live gig, bassist Mizuki announced that she will leave the band. Reasons were not clearly given, although I think her agency boss might have something to do with this.
Talk about reality show drama huh?
Links:
Akiba BB Channel
Bandol - Road to Major Debut Part 1
Bandol - Road to Major Debut Part 2
Bandol - Road to Major Debut Part 3
=====
ZONE - Good Days